This zone is characterised by hot summers and cold winters and pastures include a mix of perennial grasses and legumes and annual grasses. Due to a shorter growing season and slow winter growth, there are differences in pasture growth rates and total feed on offer produced. This affects the potential stocking rate and pasture utilisation and therefore affects the recommendations for ewe management.
The economic analysis that supports these recommendations for this region will be posted on this site in August 2007.
Ewe Fat Score Targets 
Production from ewes and their progeny can be predicted with confidence from knowledge of the ewe Fat Score (FS) profile.  The profile sets the FS targets for key times during the reproductive cycle. Ewe FS at joining and at lambing set the framework of the profile and the environmental conditions, including expected level of pasture available in late-pregnancy, dictate the shape of the profile for a particular region. There is no universal optimum production system and the 'optimum' ewe FS targets will differ for different environments, production systems (e.g. genotype, time of lambing, flock structure) and commodity prices. The best approach for improving stocking rates is to adopt stocking policies and grazing management practices which takes account of the large between and within years differences in pasture production at any location.
Fat Score Profiles: 
Fat Score profiles and targets vary between region, lambing times and enterprise type.  These graphs outline the targeted FS profile and acts as a constant reference for how your mob is performing. Print out and plot the FS of your mob against the targeted FS profile, so that by the end of the year you have a FS profile for your own ewes.  Remember - ewe FS for joining can be influenced from weaning and therefore it is important to monitor changes in ewe condition between weaning and joining.
Fat Score Targets  for Northern and Northern Tablelands NSW

[Joining in April]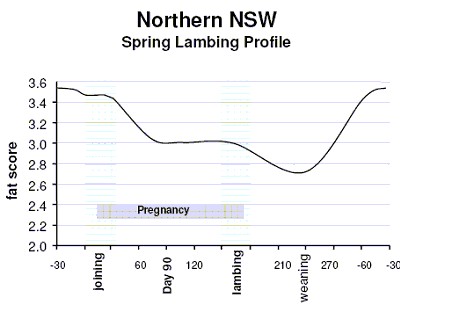 Or  choose the topic required:
Improving ewe fleece weight and wool quality
Ewes in better condition at joining conceive more lambs
Improving lamb survival
More productive lambs through better ewe management
Managing twinning ewes for higher production
Managing ewe mortality
NSW lifetimewool newsletters
(to be added to the mailing list please email Sue Hatcher)
January 2005  
April 2005  
July 2005 
October 2005 
January 2006 
April 2006
October 2006
April 2007
July 2007
October 2007
NSW DPI Primefacts
Maiden Merino ewe Conception Rates
How responsive is the conception rate of your Merino ewes? 
Fat score of ewes at joining: the benefits of optimal nutrition
For more information on the northern sheep zone please contact;  
Michael Lollback - DPI Tamworth  02 67631257
For more information on lifetimewool in NSW please contact

Sue Hatcher, Jane Mason  - DPI Orange 02 6391 3861
Sally Martin - DPI Young  02 6382 1077
Phil Graham - DPI Yass 02 6226 2199
Michael Lollback - DPI Tamworth 02 67631257