This zone is characterised by winter rainfall (>550mm) and a mix of annual and perennial grasses and clover. Due to a longer growing season than the cereal zone there are differences in pasture growth rates and total feed on offer produced. This affects the potential stocking rate and pasture utilisation and therefore affects the recommendations for ewe management. 
Details on alternative management targets and the cost of missing production targets can be found in the economics section.The economic analysis that supports these recommendations is generated using the Western Victoria MIDAS model. Download the full report of the modelling for this region (250kB PDF) 
Ewe Condition Score Targets
Production from ewes and their progeny can be predicted with confidence from knowledge of the ewe Condition Score (CS) profile. The profile sets the optimum CS targets for key times during the reproductive cycle. Ewe CS at joining and at lambing set the framework of the profile and the environmental conditions, including expected level of pasture available in late-pregnancy and required level of supplementary feeding, dictate the shape of the profile for a particular region.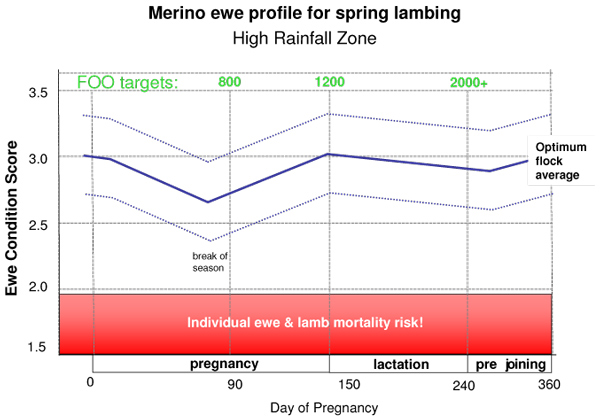 (click on image for a printable version)
This graph outlines the target CS profile and acts as a constant reference for how your mob is performing. Print out and plot the CS of your mob against the targeted CS profile, so that by the end of the year you have a CS profile for your own ewes.     
Remember - ewe CS for joining can be influenced from weaning and therefore it is important to monitor changes in ewe condition between weaning and joining.
The minimum CS depends on the availability of green feed in late pregnancy and the ewes response to that feed. Single bearing Merino ewes should be around CS 2.8 at lambing and twin bearing ewes above 3.0. Only lose the condition that can be regained.  This is due to the production advantage of ewes gaining condition in late pregnancy on lamb survival and wool production and the cost savings in hand feed. 
Key points:
Increasing ewe condition should only be done using green feed.  It is rarely economic to feed grain for condition

Only lose enough condition over autumn that can be regained using green feed after the break.  Defered grazing tactics are important to get required pasture targets

If ewes are, by reason of a good summer, on a higher starting CS, continue to follow the shape of the profile rather than try to lose more condition.  This will still give the highest economic return.
.......read more on the economics

or choose the topic of interest from  
How whole farm profit is affected by the condition of ewes
Improving ewe fleece weight and wool quality
Ewes in better condition at joining conceive more lambs
Improving lamb survival
More productive lambs through better ewe management
Managing twinning ewes for higher production
Managing ewe mortality
or download/ request a hard copy of the Ewe Management Handbook for the High Rainfall Zone
Tools including Pasture photos, condition scoring and feed budgeting
For more information on lifetimewool in South Australia please contact;
Dr Janelle Hocking Edwards or Katrina Copping
Struan Research Centre  ph: 08-8762-9191